Maintenance & support

of your website
If you have a WordPress site, whether or not As Design created it, sometimes you just need help with website maintenance. Consequently, you can worry about running your business and know that your site is in great hands. Even if I didn't create the website, I'll be happy to take the maintenance off your plate.
You need your time to do what you do best.
I am available to you 24/7 and provide the best WordPress
support

and

maintenance

around. Armed with innovative tools, AsDesign's service is unrivalled. You'll also get impeccable site security, off-site backups and support you won't see anywhere else!
I work as an extension of your team 24/7. I take care of the updates, security and backups that keep your site running smoothly.
And I'll help you with edits and issues on your WordPress website whenever you need it.
Plans for everyone
If you require something unique, get in touch and I'll build it for you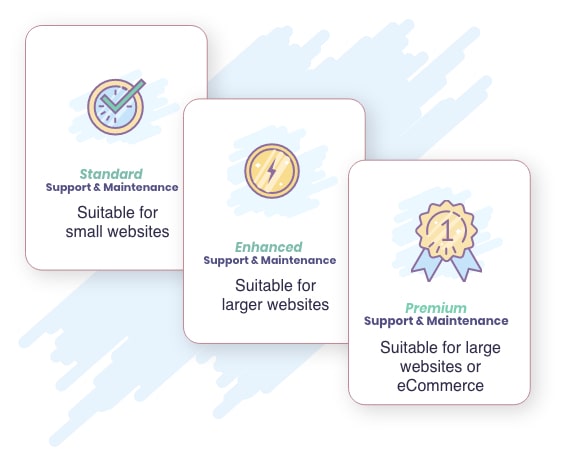 Regular updates, Malware protection, Backup and Security from WordPress support specialists.
Peace of mind for you and your business
Once your site is set up on a self-hosted WordPress installation, you
generally have 3 options for maintaining your website.
Option 1:
Don't do anything – don't back up, upgrade, or secure your site. Your recurring time commitment and cost are zero. But you have a higher chance of something going wrong, and it will cost you more money to fix it. You will also have the highest potential downtime with this option. This is, unfortunately, the most common choice among WordPress users.
Cost: High. When something goes wrong, it may cost you €500 or more.
Time commitment: None.
Risk of hacking/downtime: High.
Option 2:
Hire someone to do it all for you. Back up and upgrade your site but don't do security. If your backups are done properly, you should be able to quickly recover your website in the event of a disaster. But you will likely lose any changes made since the last successful backup – posts, pages, comments, etc. Your site may be down or broken for days or weeks, depending on how quickly you can identify the problem after it appears, and how quickly you can get your developer to fix it.
Cost: Medium. Probably €300 – €500/month.
Time commitment: Low. You will contact your developer whenever something goes wrong.
Risk of hacking/downtime: Medium. However, it varies depending on your developer's skill level, your priority as their customer, and your contract/retainer.
Option 3:
Educate yourself and maintain your website on your own. Back up, upgrade, and secure your site on a regular basis. Know what themes and plugins to use, how to restore from a backup, how to fix broken PHP code, etc. When you're doing it all yourself, you don't have to wait for your developer to fix things.
Cost: €0.
Time commitment: High. At least 100 hours to learn the intricacies of managing WordPress, and 5-10 hours/month to manage your site and stay up to date.
Risk of hacking/downtime: Low. Assuming you learn how to maintain your site correctly.
If you don't educate yourself or have a WordPress developer on call, you're putting both your website and business at risk. If you want to do things yourself, it's essential that you devote the time to learn the technical side of WordPress maintenance before things go wrong. You should have a strong foundation in HTML, CSS, PHP, and MySQL to start with.
If not, then it could take even more time to master.
More Ways I Can Help You!
If you require something unique, get in touch and I'll build it for you

WordPress Optimisation
Speed, speed and more speed, make
your visitors and google as happy as
Possible, it's crucial for your success

WordPress Hosting
Often overlooked, but crucial for the
success of your website, affordable wordpress
specific managed hosting

WordPress Migration
Not happy with your current website host?
I move you quickly and easily with no fuss or stress

Free Advice
Sometimes you just need a little quick
advice on some common issues, my free
advice resource may help you
Get in touch
Let me take care of your site so you can focus on your business.