Looking for a web designer in Santry? AsDesign has become the number one web design service in Santry. We use our skills and insights in website design to help you meet your goals. Our mission is to create stunning bespoke websites that excite and inspire your potential clients. As Design offer not only web design services that's creative and unique to your business but also marketing and print solutions. Our office based in Santry, Dublin, provides web design services worldwide.

Santry Custom Web Design
Your business, branding and marketing are different from your competitors. I'll design custom built websites that reflect your point of difference.

Mobile Responsive
Your business, branding and marketing are different from your competitors. We design custom built websites that reflect your point of difference.

Online Shops
We're Commerce expert work with many leading brands. I provide WordPress and bespoke eCommerce solutions.

UI/UX Design
Beautifully designed user experience and interface, that is both user friendly and easy to navigate.
Professional business
website
Professional business website is everything you need to start promoting your business. We will promote your brand in the most professional and credible manner.
All our websites are custom designed for business and start-ups requiring a professional website that is easy to manage, you will be able to easy add or change content like text or images. I know getting your business online can be complicated and time consuming process, that's why I take care of everything for you, from registering your domain, setting up your hosting to design, submitting it to the search engines to create basic SEO and launching your business website.
We have worked with startups, small businesses and large corporations to provide professional and reliable website design and SEO with measurable results. We've helped thousands of companies in Santry and around the globe gain a competitive edge in their industry while providing an unmatched level of personal attention and customer support.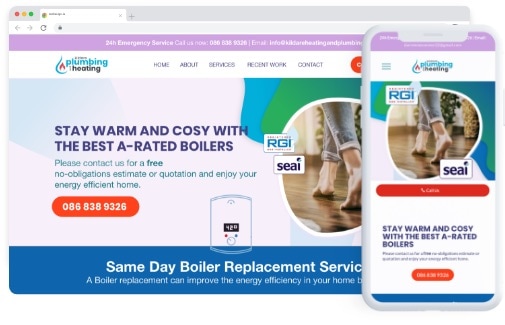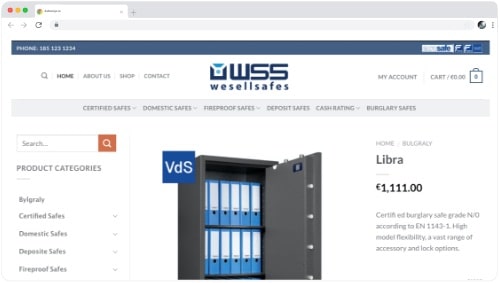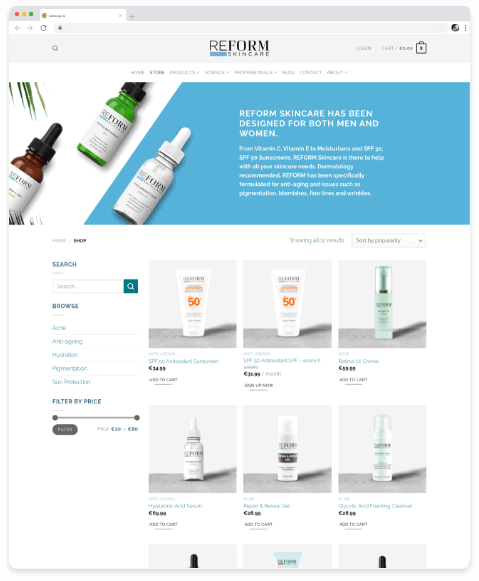 Ecommerce Website
An eCommerce website has an online business facility with a payment solution generally called Online Shop. Each online shop is different and require different approach, that's why we create a bespoke websites for our clients that's visually appealing, user friendly and mobile responsive.
Our online shops are build on content management system – you can easily edit all aspects of your website including managing your online shop products.
Since 2005, we have designed thousands of websites for clients in many different industries. We've had the opportunity to work with some great clients in Santry.
We take care of all of the complicated technical stuff, so that you can focus on what you know best – how to sell your products.
I'll help you get set up, design and build your website, and (if you think you need it) give advice on dealing with your bank and payment gateway.
Website Redesign
If you already have a website but your not happy with it and would like to redesign it, don't look further. I will turn your website into an online success. I will work with you closer to make sure you are 100% happy with your new website, I am giving you unlimited revision – you can be sure your website is exactly what you expecting!
A website redesign will help you boost your brand, traffic, leads, ranking and sales. Your new website will be "mobile friendly"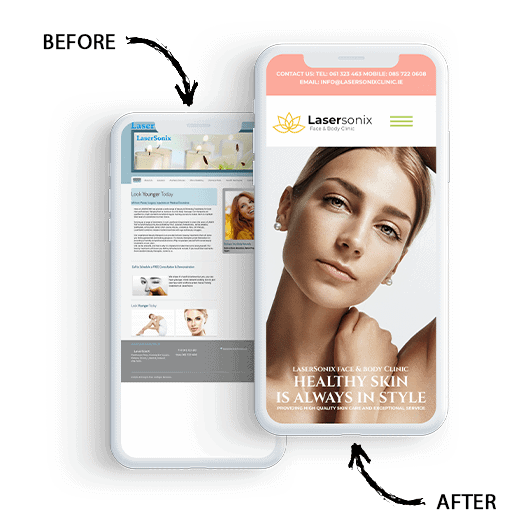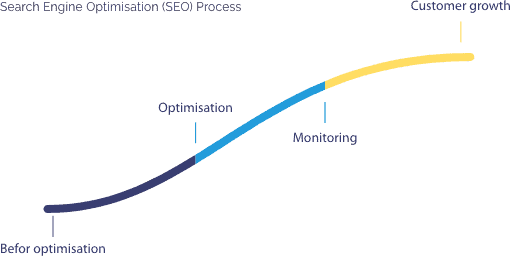 Search Engine
Optimisation (SEO)
Ranking at the top of Google for your relevant keywords is probably the most powerful thing you can do for your business regarding getting more customers. We will increase brand awareness, place your website ahead of 1,000s of potential customers to help increase your phone calls, leads and revenue. We will improve rankings, generate traffic to your website, boost your business.
We provide a results based service. If you're looking to get first-time ranking, fix dated optimisation techniques or send an existing site to the top, we provide the expertise and tools to make it happen.
SEO is the method of ranking websites for their relevant keywords. For example, if you own Beauty Salon and are based in Dublin, hiring an expert will help your website ranked on Google.ie for relevant keywords like "Beauty Salon Dublin, Dublin Beaty Salon, Beauty Salon in Dublin, Beauty Salon" etc. Ranking your website results in a huge increase in calls and business.
OUR WEBSITE DESIGN PORTFOLIO
All of our websites are created in-house in Santry, by our talented designers.
Take a look at our web design portfolio below where you'll find examples of work completed for many industries.
Ready to create beautiful successful website?
Let me take care of your site so you can focus on your business.
Complete Website design & development
We offer complete WordPress website design and development that includes branding, search engine optimisation, and a focus on visitor conversions. While we use technology and code, we focus on the customer journey and the user experience. Our web design projects start at the search engine results page and migrate through content and call to actions. We want to help you create a digital transformation that is focused on your customer, their experience, and how this journey delivers revenue.
From a simple brochure website to an advanced eCommerce solution, I can create the ultimate solution to meet your marketing goals and objectives.
All of our custom website design and development projects follow a structured process that helps and execute your project on-time and on-budget.
All our websites themes are responsive, which means they will automatically adapt to mobile devices like iPhones and iPads. Responsive web design is a web design approach that provides optimal viewing across a wide range of devices. One website can accommodate desktop computer monitors, tablets, and mobile phones. This saves you development time, as well as reduces ongoing maintenance costs. We are simply the best website design company in Santry.
Why WordPress website design?
WordPress is, by far, the most popular website platform in the whole world. WordPress is a content management system (CMS), which means it's designed to help you organise and display the content on your site.
WordPress holds the largest CMS market share, where it quantifies to over a quarter of existing websites are powered by WordPress. In other words, WordPress rules the web!
The number continues to grow, becoming the most popular option to use in building websites. Because of this, many users are now more familiar with it, so it's easier to find professionals who are well-versed in WordPress.
One of the main reasons why WordPress is the most popular CMS in the web is because it's so easy to use! Unlike other software that can be intimidating,
From a simple brochure website to an advanced e-Commerce solution, I can create the ultimate solution to meet your marketing goals and objectives.
WordPress was built to attract the non-tech savvy business owners. WordPress is also flexible and can accommodate plugins for additional functions. Plugins are designed to extend functionality in your site with features that are tailored to your specific needs.
WordPress is not all about texts; it also comes with a built-in support that can handle images, audios, and even video contents. Insert any media type in between your content in just a few clicks!
WordPress also supports embed-enabled website where you can add YouTube videos, Twitter tweets, Soundcloud audios, and more, by simply copy-pasting the URL within your post. Audio and video formats supported by WordPress include M4a, MP4, WebM, OGG, FLV, MP3, and WAV files.
FREQUENTLY ASKED QUESTIONS
Here are some of our most frequently answered Web Design questions and answers
How much do you charge to build a website?
We have prepared different packages for different needs, see our packages.
How long will it take to complete my website?
Our standard timeline is 2-3 weeks to complete a website but this depends on the project since the size and pace of any project is set by each client. How much input you can provide during the initial stages, your feedback, how soon the content is provided – all this affects the speed of completion. The functionality and revisions required will also play a role in your timeline.
Do I have to be in Santry to work with you?
No! We work with clients all over the world and can communicate by email, scheduled calls and Zoom meetings.
Will I be able to update the site myself when it's finished?
Yes! We love it when our clients take control of their website and learn to manage the content on their own website. You will have full access to the backend of your new WordPress website upon migration to make simple text updates, pictures changes, new products and pricing can easily be changed on your own. However, we do recommend a professional (developer) to complete more complex changes and maintenance such as plugin updates, design or structure changes, and complex functionality requirements. For the first 7 days upon completion of your website we provide free training if needed. After this time we provide hourly tutorials upon completion of your website at €40 per hour if you are interested in learning how to navigate through the backend to make minor updates independently.
Will you maintain our website for us?
We can help maintain your website, or you can do so yourself with the more minor changes. The choice is 100% up to you. We provide on-going support for many of our clients but it is not mandatory and you will not be charged a monthly fee. You can contact us as you require updates to your website and we will provide an hourly quote based on your requests.
Do you provide website hosting and domain?
Yes!, we will take care of your website hosting and domain. For the first year hosting and domain is free of charge.
Will my website be mobile-friendly?
Absolutely! Having a mobile-friendly website is more important than ever! We work hard to ensure your website is responsive on modern devices and browsers.
How much input do I have in the website design process?
A lot! Your input and feedback is crucial to this website design and development process. We'll start with a lot of questions about your needs, your likes, your wants and work with you to develop just the right look and functionality. We also request you to provide sample websites before we begin your project. Remember this is your website and we need your help and direction as to your final vision. We're a team and look forward to hearing your ideas.
Who writes the text/content for the website?
We require that you provide all of the text content for your website. You are the expert on your business, so it's always best if it comes from you. If you need assistance, we have a copywriter on our team who can help clean up or write original content for you at an additional cost of €60 per 1000 words.
Do you only create WordPress websites?
Yes! WordPress is the best content management system that powers more than 42% of the world wide web. Its huge market share is due to it's flexibility and ease of use. From minimal, informational, template websites that are to the point – to a more custom website with specific functionality to achieve your website goals, we've worked on all kinds of websites and worked with countless industries all on WP.
What if I need help on my site down the road?
We are only an email away! We're here to help you as much or as little as you need, and we'll be available even beyond the launch of your new website. We take pride in building a long term business relationship with our clients and we look forward to the opportunity to work on your future projects or growing your website further. We've been doing this since 2005, so we aren't going anywhere anytime soon. Feel free to email us at [email protected] to request a quote or ask a question about your project.
Is SEO included in my website build?
Yes!, the build of your website include basic SEO. All items that we add to your website including text, photos and video are build to basic SEO standards, that means we focus on creating proper hierarchy by placing apriopate tags, add all descriptions, alternative tags and correct pictures names. Your text, photos and videos
can be seen by Google but that doesn't mean you will rank #1. We do, however, provide top notch monthly SEO services with our team of specialists who are ready to assist with your SEO needs!
Do you work with new and small businesses?
Yes! we work with all types of businesses – new, startups, small, to big corporations. We are excited to work and guide new businesses who are passionate about taking their first steps into an online presence and making their vision come to life.
What is photo sourcing?
If required, we will assist you in finding free stock images from websites such as Pixels and Unsplash. Your assistance and direction will be required to find the perfect images, photographs, graphics, vectors for your website and your brand.
How do we get started?
Contact us by email at [email protected] with your website details (current or new project), page breakdown, and any sample websites to reference. Upon review, we will provide an estimate for your project or schedule a call to discuss further.
As Design have developed a unique set of skills and techniques which enable to provide cutting-edge websites for affordable prices. My web design packages are aimed at small to medium businesses and start-ups.
My all websites are custom designed and tailored to your business and needs, that means I don't use template as other web design companies – you won't find another website that looks like yours!
You'll get one of a kind, unique custom designed website!!!
Business Professional Website Packages
Suitable for potential Mid Sized and Enterprise companies.
€1799
€1279 ONLY
✓ Contact page with contact form
✓ Google analytics set up for traffic reporting and analysis.
✓ Facebook and Social Media Integration
✓ FREE Training if needed
✓ 24/7 Client Support through all Process
Professional Shop Website Packages
Online store with up to 2500 product listings. Ideal option for retailers looking to sell their range online.
€2999.00
€2749 ONLY
✓ Up to 10 email accounts
✓ Contact page with contact form
✓ Google analytics set up for traffic reporting and analysis.
✓ Facebook and Social Media Integration
✓ FREE Training if needed
✓ 24/7 Client Support through all Process
*As Web Design host each of the websites I build on our own secure servers and do not allow third-party access.
**Additional pages can be added to any of the above packages for a fee of €60 per page.
***As Web Design add the first 10 products to the 'Professional Shop Website Package' and teach your business to upload additional products. Hosting for a store is FREE! Additional products can be added for a fee of €10 per product.
CONTACT US
Use the form below to contact us. We look forward to learning more about you, your organization, and how we can help you achieve even greater success.
The process
The key word is passion! Beyond that, you simply have to know how to structure, design and prioritise. My key advantage is my unique website development process.
At the end of the day, what matters to our customers is to get high-quality, imaginative, website.
And that's exactly what I deliver.

Custom Discover
I ask and listen toward a thorough understanding of your project.

Plan
I invent, optimize, brainstorm and prioritise.

BUILD
I make frequent, small releases of working website.

LAUNCH
I release your website once it's ready and thoroughly tested.

GROW
I monitor, measure, make use of data, maintain and support.